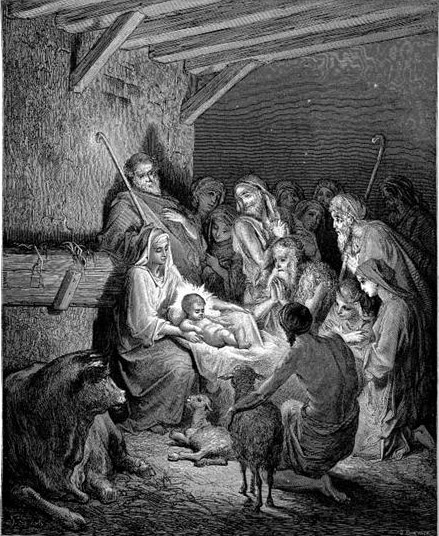 Thy tributary Eastern Kings.
Lord! Grant some light to us; that we
May with them find the way to Thee!
Behold what mists eclipse the day!
How dark it is! Shed down one ray,
To guide us out of this sad night,
And say once more,
"LET THERE BE LIGHT!"

–Henry Vaughan
__________
"Christmas is coming, the goose is getting fat, who'll put a penny in an old beggar's hat?" I will. The poor beggar has become our Lord. He was once treated royally, and now He is treated like a poor beggar. The liberals have deemed all non-liberal news sites as false news sites. They are for freedom of the press, but they are not for freedom of the haters. Thus the false news sites must be banned because they are filled with hate. It's convenient, isn't it? Just as convenient as was the Pharisees' rejection of Christ. All their ceremonies existed to extoll the living God, yet when the living God appeared, they rejected Him in order to hold on to their ceremonies and their positions of authority. From that act of hypocrisy stemmed the Jewish peoples' unrelenting hatred of Christ and those who followed Him. But it is not just the external Jew who hates Christ. The Christ haters are all those who place a system rooted in externals above the internal spiritual virtues such as faith, hope, and charity. This is why the alternative Right, with their obsession with biological explanations of existence and biological solutions to white genocide are just as inimical to white Europeans as the liberals are. Everything of old Europe speaks to us of Him. If we let go of old Europe we are lost in the maze of modernity. And in that maze all paths lead to hell.
The antique Europeans were like unto the Wise Men who followed the Star of Bethlehem to the manger. They knelt and believed. The modern Europeans are like unto the Pharisees who rejected Christ:
O Jerusalem, Jerusalem, which killest the prophets, and stonest them that are sent unto thee; how often would I have gathered thy children together, as a hen doth gather her brood under her wings, and ye would not! Behold, your house is left unto you desolate: and verily I say unto you, Ye shall not see me, until the time come when ye shall say, Blessed is he that cometh in the name of the Lord.
The house of modern Europe has been left desolate because the modern Europeans do not kneel with awe and reverence before the Babe in the manger and then follow Him through His public ministry, His crucifixion, and then His glorious resurrection. Instead they have returned to Herod, the king of Liberaldom, and asked for a share of Herod's kingdom in return for information leading to the death of the Christ Child. But the Christ Child still lives! He lives in the hearts of the European people who refuse to let go of Christ-centered Europe.
Was Christian Europe a myth? They all tell us so. But it was not a myth. Our ancestors saw the living God and they bequeathed that vision unto us. The love of Christ can only be passed on from heart to heart. The system makers, the Pharisees of Churchianity, Liberaldom, and neo-paganism, have nothing to offer us except a desolate house. Let us kneel before the Christ Child and pass from the darkness of the Pharisees of modernity to the light of our incarnate Lord.
The liberals and the colored barbarians are outside the pale of humanity – they will not allow us a Christmas truce. In fact, they always intensify their attacks on the Christ-bearing race at Christmas time. So I know that one cannot ever let one's guard down. We are at war with an implacable enemy – an enemy that has not charity. But in the midst of this ongoing war I hope you, the European remnant, find a way to have a European Christmas.
When you speak of things you love, you wear your heart on your sleeve and become easy prey for the sneering multitude. But if you don't wear your heart on your sleeve, you cannot find those hearts that are like unto yours. So I am going to follow the path of the repentant Scrooge and wear my heart on my sleeve by recommending some of my favorite Christmas readings and movies. The first is Dickens' A Christmas Carol. The 1951 movie with Alastair Sim is the best, by far. A little side note – Dicken's granddaughter was on the set of that movie. And then there is the tale itself. Can we ever forget that ending:
Scrooge was better than his word. He did it all, and infinitely more; and to Tiny Tim, who did not die, he was a second father. He became as good a friend, as good a master, and as good a man, as the good old city knew, or any other good old city, town, or borough, in the good old world. Some people laughed to see the alteration in him, but he let them laugh, and little heeded them; for he was wise enough to know that nothing ever happened on this globe, for good, at which some people did not have their fill of laughter in the outset; and knowing that such as these would be blind anyway, he thought it quite as well that they should wrinkle up their eyes in grins, as have the malady in less attractive forms. His own heart laughed: and that was quite enough for him.

He had no further intercourse with Spirits, but lived upon the Total Abstinence Principle, ever afterwards; and it was always said of him, that he knew how to keep Christmas well, if any man alive possessed the knowledge. May that be truly said of us, and all of us! And so, as Tiny Tim observed, God bless Us, Every One!
That ending is the literary equivalent of Handel's "Halleluiah Chorus." We partake of the divine charity when we are connected to Him through His people – and to Tiny Tim, "who did not die."
And then there is –
The Laurel and Hardy movie called March of the Wooden Soldiers
Washington Irving's Old Christmas containing the stories titled "Christmas", "The Stage Coach," Christmas Eve," "Christmas Day," and "The Christmas Dinner"
The Wind in the Willows, Chapter 5, "Dulce Domum"
The movie about miracles and the grace of God, called A Canterbury Tale– though it is only tangentially connected to Chaucer's Tales
The old Christmas carols – if you still have family gathered round to sing with, you are blessed indeed. I like the Burl Ives, Bing Crosby, and Julie Andrews' renditions of the old carols.
The movie called The Wonderful World of the Brothers' Grimm – there is a song in that movie that enjoins us to live in "Christmas Land." Yes! That is what old Europe was – it was Christmas Land.
Shakespeare's Twelfth Night
The movie Pickwick Papers and a reading from the book, Chapter 28, in which the Pickwickians celebrate Christmas at Dingley Dell as only a Pickwickian can.
One or more of the Disney Classics: Lady and the Tramp, which begins and ends at Christmas time, Sleeping Beauty, and Snow White all place us back in fairy tale Europe, which is His Europe.
I don't know how many Christian Europeans are still alive. These blogs we write are much like prayers. We have hope that they are not in vain, but that hope is grounded in our faith in a spiritual realm that cannot be seen with the material eye. I love all antique Europeans who are struggling to live in Christmas Land while the forces of modernity are trying to destroy you. God bless you all.
I don't know if any struggling European will take heart from one final Christmas sentiment, but here it is: Recently, at my last wedding anniversary, my youngest daughter handed me a poem she had written:
To My Parents

Is there ought in my heart that is kind and just?
Is there that in my soul which is true?

If there's good in me, then after God

To thank for it, there's you.

If there's ought of strength, peace, courage or love,
Or any of those gifts most divine,
In my feeble soul, pierced through with sin,
The credit, then, is thine!

My father, my guide, my teacher, my friend;
(Through him, my soul first sought Him above)
My mother, my comfort every day;
They taught me Truth and Love!

Never can thanks be repaid to you both,
Nor would your hearts expect any gain,
But in my prayers may you both be blessed,
Over and over again!
That's what the grace of God is all about, Charlie Brown. He works through human hearts. All that I know of peace, courage, or love that I was able to impart to my daughter came through European hearts connected to His sacred heart. Blessed Christ Child – blessed be thy name this Christmas and every Christmas. +
________________________________
Footnote – That the European people are being attacked and seemingly conquered by an implacable, satanic foe is sadly a fact of European history. That the European people will fight against the liberals and their minions is my hope. But isn't the Christmas season a time of hope? I believe that nothing is impossible for the European people when they reconnect with the European Christ. The story that will appear on the CWNY blog on December 17th, 24th, and 31st is a story of hope. Again, God bless all those Europeans who love His Europe. Merry Christmas!