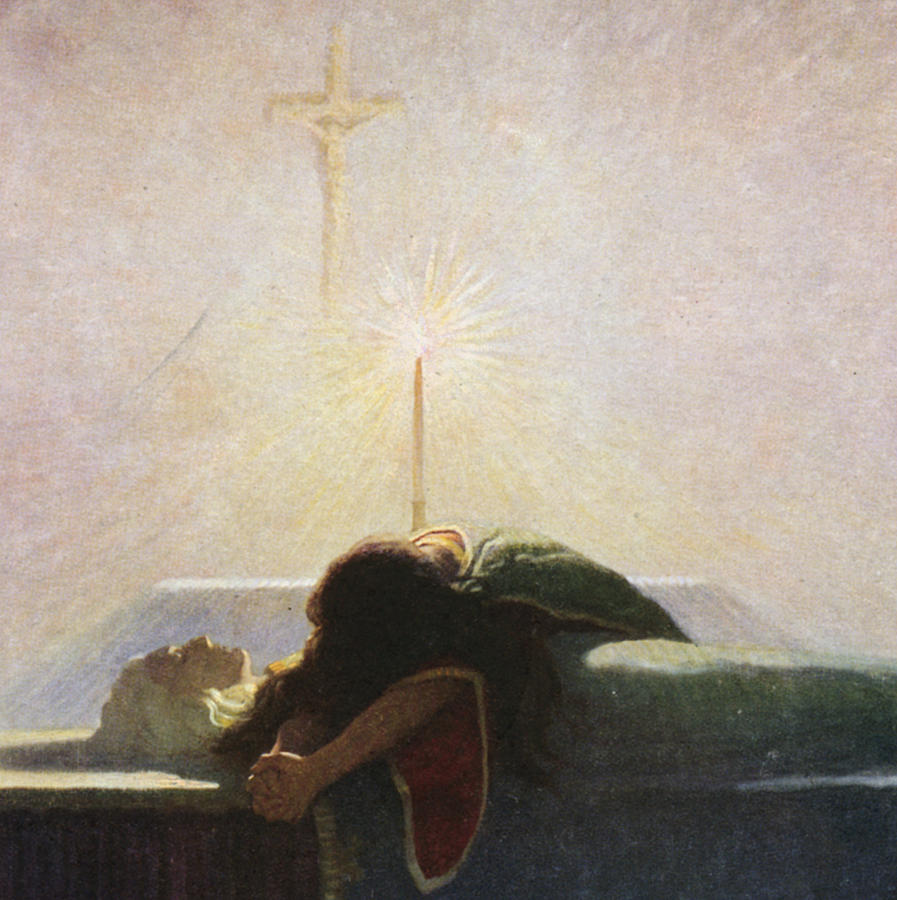 Jesus said unto her, I am the resurrection, and the life: he that believeth in me, though he were dead, yet shall he live: And whosoever liveth and believeth in me shall never die.
________________________
To the faithful in Christ who have followed Cambria Will Not Yield, we, his family, must tell you that the greatest man of our time has received his reward: Cambria Will Not Yield has left this world and gone to Christ's kingdom. Some of you may know this already; Shotgun Barrel Straight has posted a video on his blog in honor of Mr. Cambria, spoken from the heart which is thankfully received in our hearts, let us tell him. Thank you, Shotgun Barrel Straight; so many of your words are ours. You are right; there just does not seem to be any appropriate words to say, to express what this means to so many of us, to describe the man, the poet, the soldier, that Cambria Will Not Yield was.
He was a burning and a shining light in this land of darkness. What can we say in memoriam of him? How can we, his family, do better than to keep his blog up as long as we can for all to see and read? And how can we all do better than to take his words to our hearts and live for Christ and His people? His own writings stand as the best memorial; in them you can read of his entire life-long war for Jesus Christ and His people against Satan and his followers, battle by battle, for each article he wrote with his heart's blood. His passing was sudden; our Lord must have needed him right away to carry on the good fight elsewhere, just as a soldier in war is transferred, for he was and is Christ's soldier always.
Arthur paused a moment, and then said quickly, "I'll tell you how it all happened. At first, when I was sent to the sick-room, and found I had really got the fever, I was terribly frightened. I thought I should die, and I could not face it for a moment. I don't think it was sheer cowardice at first, but I thought how hard it was to be taken away from my mother and sisters and you all, just as I was beginning to see my way to many things, and to feel that I might be a man and do a man's work. To die without having fought, and worked, and given one's life away, was too hard to bear. I got terribly impatient, and accused God of injustice, and strove to justify myself. And the harder I strove the deeper I sank. Then the image of my dear father often came across me, but I turned from it. Whenever it came, a heavy, numbing throb seemed to take hold of my heart, and say, 'Dead-dead-dead.' And I cried out, 'The living, the living shall praise Thee, O God; the dead cannot praise thee. There is no work in the grave; in the night no man can work. But I can work. I can do great things. I will do great things. Why wilt thou slay me?' And so I struggled and plunged, deeper and deeper, and went down into a living black tomb. I was alone there, with no power to stir or think; alone with myself; beyond the reach of all human fellowship; beyond Christ's reach, I thought, in my nightmare. You, who are brave and bright and strong, can have no idea of that agony. Pray to God you never may. Pray as for your life."

Arthur stopped—from exhaustion, Tom thought; but what between his fear lest Arthur should hurt himself, his awe, and his longing for him to go on, he couldn't ask, or stir to help him.

Presently he went on, but quite calm and slow. "I don't know how long I was in that state—for more than a day, I know; for I was quite conscious, and lived my outer life all the time, and took my medicines, and spoke to my mother, and heard what they said. But I didn't take much note of time. I thought time was over for me, and that the tomb was what was beyond. Well, on last Sunday morning, as I seemed to lie in that tomb, alone, as I thought, for ever and ever, the black, dead wall was cleft in two, and I was caught up and borne through into the light by some great power, some living, mighty spirit. Tom, do you remember the living creatures and the wheels in Ezekiel? It was just like that. 'When they went, I heard the noise of their wings, like the noise of great waters, as the voice of the Almighty, the voice of speech, as the noise of an host; when they stood, they let down their wings.' 'And they went every one straight forward: whither the spirit was to go, they went; and they turned not when they went.' And we rushed through the bright air, which was full of myriads of living creatures, and paused on the brink of a great river. And the power held me up, and I knew that that great river was the grave, and death dwelt there, but not the death I had met in the black tomb. That, I felt, was gone for ever. For on the other bank of the great river I saw men and women and children rising up pure and bright, and the tears were wiped from their eyes, and they put on glory and strength, and all weariness and pain fell away. And beyond were a multitude which no man could number, and they worked at some great work; and they who rose from the river went on and joined in the work. They all worked, and each worked in a different way, but all at the same work. And I saw there my father, and the men in the old town whom I knew when I was a child—many a hard, stern man, who never came to church, and whom they called atheist and infidel. There they were, side by side with my father, whom I had seen toil and die for them, and women and little children, and the seal was on the foreheads of all. And I longed to see what the work was, and could not; so I tried to plunge in the river, for I thought I would join them, but I could not. Then I looked about to see how they got into the river. And this I could not see, but I saw myriads on this side, and they too worked, and I knew that it was the same work, and the same seal was on their foreheads. And though I saw that there was toil and anguish in the work of these, and that most that were working were blind and feeble, yet I longed no more to plunge into the river, but more and more to know what the work was. And as I looked I saw my mother and my sisters, and I saw the Doctor, and you, Tom, and hundreds more whom I knew; and at last I saw myself too, and I was toiling and doing ever so little a piece of the great work. Then it all melted away, and the power left me, and as it left me I thought I heard a voice say, 'The vision is for an appointed time; though it tarry, wait for it, for in the end it shall speak and not lie, it shall surely come, it shall not tarry.' It was early morning I know, then—it was so quiet and cool, and my mother was fast asleep in the chair by my bedside; but it wasn't only a dream of mine. I know it wasn't a dream. Then I fell into a deep sleep, and only woke after afternoon chapel; and the Doctor came and gave me the Sacrament, as I told you. I told him and my mother I should get well—I knew I should; but I couldn't tell them why. Tom," said Arthur gently, after another minute, "do you see why I could not grieve now to see my dearest friend die? It can't be—it isn't—all fever or illness. God would never have let me see it so clear if it wasn't true. I don't understand it all yet; it will take me my life and longer to do that—to find out what the work is." –Tom Brown's School Days
He would yearn to comfort each and every one of you now in your grief and fear, just as he ever strove to do when he was writing; there are so many works of Old Europe he quoted from to give and receive comfort. He would encourage you to read them now, we know, as you feel the need: Shakespeare's 31st Sonnet, King Lear (his favorite work of literature), Tom Brown's School Days, Uncle Silas, and The Shepherd Who Watched by Night to name a few, and especially the Gospels. The very last chapter he read aloud with us, his family, was St. John 16:
Verily, verily, I say unto you, That ye shall weep and lament, but the world shall rejoice: and ye shall be sorrowful, but your sorrow shall be turned into joy. A woman when she is in travail hath sorrow, because her hour is come: but as soon as she is delivered of the child, she remembereth no more the anguish, for joy that a man is born into the world. And ye now therefore have sorrow: but I will see you again, and your heart shall rejoice, and your joy no man taketh from you.
Cambria Will Not Yield followed in the footsteps of our Lord and Savior and the antique Europeans; he took up the Cross and followed Him to the end; we know with certainty that he is risen with Him now.
Then the young Hero – He was God almighty – firm and unflinching, stripped Himself; He mounted on the high cross, brave in the sight of many, when He was minded to redeem mankind. Then I trembled when the Hero clasped me; yet I durst not bow to the earth, fall to the level of the ground, but I must needs stand firm. -The Dream of the Rood
But to those of us who must remain and wait yet a little while, Cambria Will Not Yield would have this to say in St. Paul's words:
Finally, my brethren, be strong in the Lord, and in the power of his might. Put on the whole armour of God, that ye may be able to stand against the wiles of the devil. For we wrestle not against flesh and blood, but against principalities, against powers, against the rulers of the darkness of this world, against spiritual wickedness in high places. Wherefore take unto you the whole armour of God, that ye may be able to withstand in the evil day, and having done all, to stand. Stand therefore, having your loins girt about with truth, and having on the breastplate of righteousness; And your feet shod with the preparation of the gospel of peace; Above all, taking the shield of faith, wherewith ye shall be able to quench all the fiery darts of the wicked. And take the helmet of salvation, and the sword of the Spirit, which is the word of God: Praying always with all prayer and supplication in the Spirit, and watching thereunto with all perseverance and supplication for all saints.
He read those words to us, his family, many times; he would want to say them to you now as well.
Our prayers are with you all; please pray for us; we are in need of them. We all need Christ's comfort and strength now more than ever, as night seems to be closing in around us; hold on till the dawn in His name and for His sake! Cambria Will Not Yield is still standing with us, for his spirit of loving fire can never be quenched. He was a man of sorrows, and acquainted with grief, as our Lord was. Although he had full cause of weeping, he journeyed out of the shadow of the raven and into the light of the risen Lamb.
Then from the dawn it seem'd there came, but faint
As from beyond the limit of the world,
Like the last echo born of a great cry,
Sounds, as if some fair city were one voice
Around a king returning from his wars.

-Idylls of the King
If you would find comfort in them, please listen to Cambria Will Not Yield's favorite hymn, Abide With Me; he played it more times than a man can count, he loved it so. Also, No More Nights, which he came to love deeply in his later years.
Jesus Christ abide with you, dear brethren, and all of us! He will not leave us comfortless; believe that. Blessed are they that mourn: for they shall be comforted. May the grace of our lord Jesus Christ be with your spirit. In the name of the Father, and of the Son, and of the Holy Ghost. Amen. +