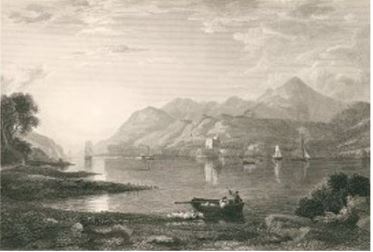 Deeper than speech our love, stronger than life our tether… –Kipling
_____
I am dreaming of the mountains of my home,
Of the mountains where in childhood I would roam.
I have dwelt 'neath summer skies,
Where the summer never dies,
But my heart is in the mountains of my home.

I can see the little homestead on the hill;
I can hear the magic music of the rill;
There is nothing to compare,
With the love that once was there,
In that lonely little homestead on the hill.

I can see the quiet churchyard down below,
Where the mountain breezes wander to and fro,
And when God my soul will keep,
It is there I want to sleep,
With those dear old folks that loved me long ago.

— W S Gwynne Williams
__________
After my father's death in the late spring, most of the family historical documents were given to me. I spent this last weekend going through old photograph albums, family records, keepsakes such as old Boy Scout caps, and other memorabilia that would only be of interest to me and my children. The word 'bittersweet' probably best describes my weekend immersion in my family's history. It was very pleasant to see pictures and personal records of my parents, my grandparents, and my great-grandparents. Most of the pictures were taken on special occasions – birthdays, holidays, marriages, and vacations – all occasions where the clan was assembled and having fun. Funerals are not generally a time for family photo opps. I also felt a great deal of sadness when looking at the old photos and family records, because all the subjects of the photos and the records have passed away. My hope is that my loved ones have not passed away, that death "will prove unreal at last," but my faith eases the pain, it does not eliminate it. Possibly there are people of firmer faith who do not feel a sense of loss when they think of their honored dead, but I can't count myself among their number.
When I look through my family records on both the maternal and paternal sides, I do not see anyone who won great honors and distinctions in this world. On the Welsh side, they were coal miners and on the German side they were craftsmen and farmers, not one member of the royalty or aristocracy in their ranks. And though many served in the military, none won medals for astounding feats of bravery. But they seemed to be, from my perspective as family historian, very great men and women because they were all white people. I'm not talking about just the outside: they were "white, pure white inside." They lived and died close to their racial hearth fire and the God of their ascending race; the spiritual treasure that they passed on, a bred-in-the-bone faith in the living God, was of infinitely more value than any material treasure.
I still go to some of the same parks where my ancestors held family reunions. But I no longer see white people who are white, pure white inside, having family get-togethers there. Instead I see blended families of white, black, yellow, and every other color having a type of anti-white family reunion. They are celebrating their diversity, which translates to a celebration of everything that is not traditionally white and Christian. The mad-dog liberals say such new family gatherings are wonderful because the old, all-white families were evil. The propositional Christians say that there is no reason why an interracial family can't be just as Christian and just as traditionally European as an all-white family. "Nothing has changed except the pigmentation of the skin, which is of no significance." Is that true? — can a racially blended family still be Christian as our European ancestors were Christian? I say most emphatically that they cannot, because the Christian faith is passed on through the blood, not the head. The propositional Christian says that blended families can be wonderful Christian families, because pure mind, from which we receive our knowledge of the true God, has no color; therefore, there is no need for a familial, racial hearth fire.
The propositional view of faith and race is taken as a given by modern Christians, despite the fact that the Christian faith has virtually disappeared since the new non-"racist" version of Christianity has become the norm. Of course if you change the definition of Christianity to 'How diverse are your families and your churches?' then you are in line with modern liberalism and you can declare the modern age to be the most Christian age in history. You can ignore legalized abortion, the breakup of the patriarchal Christian family, and the ongoing assault on the white race, because such things pale in significance to the one essential sign of the true faith: "Do you worship at the shrine of the colored gods and do all homage and honor to them by offering your children up to them in loving sacrifice for the sins of the white race?"
This is why there is such consternation in the churches when there is not enough "diversity." They must be diverse, because where there is no diversity there is no faith. The racist Europeans of the past believed, as St. Paul believed, that there could be no faith without charity, but that article of faith has been replaced by diversity, which is the supreme article of faith in the churches and in Liberaldom at large which encompasses, and its ethos rules, the Christian churches.
In Shakespeare's Henry IV Part I, the mystic Owen Glendower claims he can conjure spirits from the deep: "I can call spirits from the vasty deep." Hotspur will have none of that: "Why, so can I, or so can any man; But will they come when you do call for them?" We are ordered to believe that the new faith, which has not charity and has no place for our people, is the true faith. We are asked to make this mystic leap, against the dear-bought wisdom of our ancestors and against our hearts, which tell us to cling to one non-diverse people and one non-blended God.
There is a continuity in my family's bloodline that ends with my parents. Until the time of the World II generation there were no liberals in my family tree. They were working class people who lived by their prejudices. Their faith was Kiplingesque: "This was my father's belief, And this is also mine." But both my father and my mother were the first of their line to go to college. They learned what they believed to be the better way, the way of enlightenment. They became progressive Christians. My own spiritual journey entailed, of necessity, what my parents considered a regression to prejudice and superstition. I think most children of modern parents must make a similar regression if they want to establish contact with the living God, who can only be known in and through our people. By rejecting my parents' liberalism in order to reconnect with my grandsires, I became spiritually older than my parents. I viewed them as my beloved, but wayward children. Both became much closer to God by the time of their deaths, because of a lingering nostalgia for their people and an inability to accept the homosexual agenda of the modern churches. The strings of the past can often pull a lost soul back into the fold, which is why the liberals, at Satan's command, seek to sever every single string connecting the Europeans to their past.
In H. V. Morton's book In Search of Wales, he writes with amazement about the amount of good reading done by ordinary Welsh coal miners. They were poor, but they were not uneducated. This was the case with my ancestors, many of whom came from the Welsh coal regions that H. W. Morton wrote about. I saw many of what we now call the "classics," which remain unread in our modern, more 'sophisticated' times, in the trunks and boxes of my grandsires – Dickens, Defoe, Scott, Cooper, the Brothers' Grimm, etc. And the most important thing about their reading was that it was not done for a 'class,' the bardic European authors were not put through the academic ringer and found to be irrelevant fools. They were read for enjoyment and for enlightenment, but not the type of enlightenment that comes from intellectual speculation. The bards of Europe point us to the light of Europe, not to the light of a new utopian age.
The Greek system of education is a flawed system for the simple reason that it is a system conceived by abstract minds. The idea that a select band of men, isolated from the community, can sit around and think great thoughts, which they will then share with the world is nonsense. Look to the other side of Greek culture, where Homer sits by the hearth fire and tells stories of the Greek heroes and heroines. We, the "educated" Europeans, have lost contact with our bardic culture. The Christian European minstrels have been silenced, and all we hear at the European hearth fires are stories of liberals, which always amount to some type of Atticus Finch/Tom Robinson tale of the prejudiced whites, the sacred black man, and the unprejudiced, enlightened white man. We must reconnect with our older bardic culture and divest ourselves of our university educations before we can see the light that shineth in darkness.
The Europeans' divorce from their bardic ancestors took place incrementally, but once the change took place, it became deeply rooted in the Europeans' collective soul. It will take the spiritual equivalent of a blazing inferno to burn the intellectual speculation virus from the European people. It will take Christian Goths, loving and hating with all their hearts. It doesn't seem possible to purge Europe of the liberals and their colored henchmen, but large fires are often started with very tiny sparks. The liberals still worry about their own demise, hence they squelch all opposition to their reign of terror. All negro atrocities are permitted, because such atrocities serve Liberaldom, but let one white man resist any part of the liberal agenda, and all the powers of Liberaldom are brought to bear against such an individual. Nevertheless, we can summon strength from our past and overcome our liberal overlords if we are willing to embrace the prejudices of our provincial, European ancestors, those "dear old folk from long ago." +